Grooming Kit Limited Edition | GLOSSYBOX UK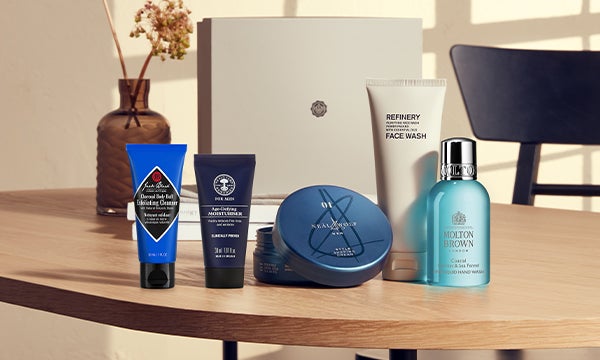 GLOSSYBOX Grooming Kit Limited Edition

Your man will be looking, feeling, and smelling fresh
this summer with our latest Grooming Kit Limited Edition. 

Inside our latest edition, he will find everything a variety of
hair, body, and skincare products, as well as a refreshing fragrance.  

Featuring 5 deluxe minis and 4 full-size beauty discoveries
– worth over £110 expertly tailored for our Glossy guys needs!
What Is The GLOSSYBOX Grooming Kit Limited Edition?
Our GLOSSYBOX Grooming Kit Limited Editio
n is our
male beauty box!
Because we know the men in your life love a pamper just as much as you do! Curated by our experts to fulfil all of his grooming needs, it's time to
share the GLOSSYBOX fun with your husband, boyfriend, dad, brother...
whoever you think will love unboxing beauty treats as much as you do!
We may be biased, but we think it's one of the best gifts for men under £30 – whether that's a Christmas gift, birthday present or an out of the blue gift to say 'I love you', the recipient is sure to love what's inside!
Who Is The GLOSSYBOX Grooming Kit For?
The GLOSSYBOX Grooming Kit is aimed at male beauty lovers. This Limited Edition has been put together to help him not only enjoy a little bit of me-time himself, but also allow him to try new products he hasn't yet used, but will very soon love! Whoever he is and whatever his age – your partner, dad, brother, grandad – this box is the perfect gift for him!
What's Inside The GLOSSYBOX Grooming Kit?
From shaving to skincare, hair products to fragrance, he's going to love discovering everything inside the GLOSSYBOX Grooming Kit Limited Edition. A mixture of full size and deluxe mini products, he'll find brands that he already knows and loves, as well as new names he's sure to be adding to his grooming regime very soon!
How Often Can You Purchase A GLOSSYBOX Grooming Kit?
There are three GLOSSYBOX Grooming Kit Limited Editions each year, meaning whenever there's a special occasion for the man in your life, there's a box for you to gift them! A birthday, Valentines, Father's Day, Christmas... wrap up a GLOSSYBOX Grooming Kit and watch him unwrap the perfect present.
Who Can Buy A GLOSSYBOX Grooming Kit Limited Edition?
Anyone can purchase the GLOSSYBOX Grooming Kit Limited Edition! Like with all GLOSSYBOX Limited Editions, subscribers get priority access, allowing them to buy theirs first! Non-subscribers will be able to buy their box when this Limited Edition goes on general sale a few hours later. GLOSSYBOX subscribers also get an exclusive discount!